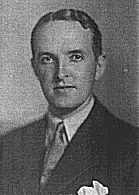 Albert Stephen Ignatius Gispert
Second Lieutenant, 371854
2nd Battalion, Argyll and Sutherland Highlanders
Hashing originated in December 1938 in Selayang Quarry,
Selangor
, then in the
Federated Malay States
(now Malaysia), when a group of
British
colonial officers and expatriates began meeting on Monday evenings to run, in a fashion patterned after the traditional British
paper chase
or "hare and hounds", to rid themselves of the excesses of the previous weekend.
[1]
The original members included Albert Stephen (A.S.) Ignatius "G" Gispert, Cecil Lee, Frederick "Horse" Thomson, Ronald "Torch" Bennett and John Woodrow. A. S. Gispert suggested the name "Hash House Harriers" after the
Selangor Club
Annex, where several of the original hashers happened to live and dined, known as the "Hash House".
---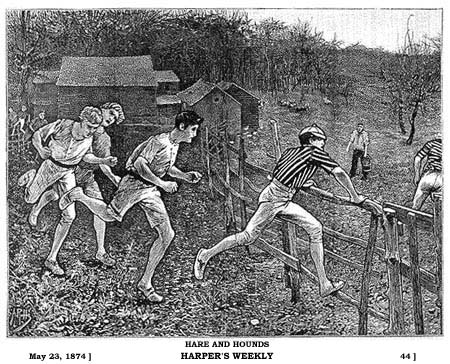 ---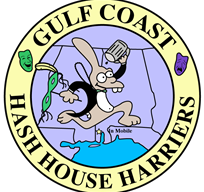 Hash House Harrier roots extend back to the old English schoolboy game of "Hares and Hounds," in which some players, called "hounds," chase others, called "hares," who have left a trail of paper scraps along their route across fields, hedges, streams, bogs, and hills. One of the earliest Hares and Hounds events on record was the "Crick Run" at Rugby School in Warwickshire, England, first held in 1837.
Hare and Hounds as an adult sport began in the fall of 1867 with a group of London oarsmen who wanted to keep fit during the winter. Also called "Paper Chasing" or the "Paper Chase," the game became very popular after its introduction on Wimbledon Common in 1868 by the Thames Hare and Hounds. Early clubs called themselves "Hare and Hounds" or simply "Harriers."
Now even though the historically accurate version of the Hash House Harriers is written above, let's see the more unaccurate version as told by a bunch of super duper old dudes. The elders (Babe Thruster, Tater, Sister, etc.) relate that British soldiers stationed in the cultural mecca known as Kuala Lumpur, Malaysia decided to take their beer drinking to another level. On Monday afternoons, to allay their weekend hangovers, a Hare would mark a trail that always led to the Hash House, a bar that undoubtedly served more than Bud Light Long Necks and Sex On The Beach. The Hounds would "track" the Hare, and after running through mud, muck, and other funky shit (shiggy), they would finish at the Hash House, and proceed to work on Tuesday morning's hangover.
Today, Hashing has swept through just about every nation and state. From major cities like New York, to hole-in-the-wall backwater boonies such as Mobile, Alabama.
Each Hash house harriers Group (or Kennel) has evolved its own customs and traditions which reflect the local culture and the perverse sicknesses of its own Hashers. The basic idea of a Hare marking a trail followed by Hounds leading to food, fun, & beer pervades all Kennels. However, with interpretations and input by Hash Master Has Been P.M. Wes, we here in GCH3 feel that our hashy customs and traditions are actually the most traditional, that our customs are the most customary, and that we host the truest Hashes.
ON-ON IN MOBILE!!!
Gulf Coast H3 Origins
The Gulf Coast Hash House Harriers was conceived and reared by the honorable Hash Master Has Been, P.M. Wes (formerly known as Abner 'Lil). While most people were combing their wild hairs and taking Lenten vows of abstinence after the 1989 Mardi Gras season, P.M. Wes feverishly searched for a vehicle that would continue the most sinful and enjoyable activities known to man (those are, or course, wine, woman, and wunning). Hence, the start of the GCH3.
There was about 5 paragraphs and an hour and a half of writing more history stuff, and jokes, and shitty humor. However, I forgot to save it. So here's the summation.
After P.M. Wes started GCH3, some shit happened. Now Lubricunt is the GM or whatever. I'm going to go cry in a corner.

---